2021 SMITH STORY SPRING WINE RELEASE ENDS ON MARCH 22, 2021.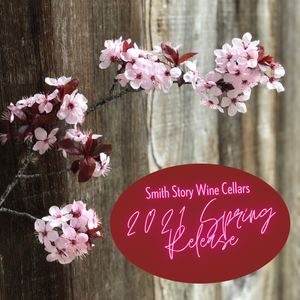 2019 SMITH STORY SAUVIGNON BLANC 
Two vineyards, both family owned and sustainably farmed go into this stunning new white wine. The blended grapes from the crushed limestone soils on top of Sonoma Mountain and the lush volcanic soils of the Knights Valley AVA make this so pure. A crisp and "wet rock" mineral driven wine, with each sip it takes us right back to the vineyard. The flavors are full of bright citrus, mostly lemon with a hint of mandarin too. It's a sassy and sophisticated wine, that has earned it's depth with a little more bottle age before it's public release this year. 100% Stainless steel. 13% Alc. 800 cases made. 
2018 SMITH STORY "The Boonies", PINOT NOIR, ANDERSON VALLEY 
Stunning balance, style, and grace! Picked from the Nash Mill Vineyard (the vineyard Eric Story helped plant nearly 20 years ago) in the late night/morning of October 1 and then a second harvest on October 2 both at 22.7 brix - the fruit flavors were fantastic! We can imagine holding the pinot noir in our chilly hands tasting under the Anderson Valley deep-end sky. Notes of wild blueberry compote & dried cranberry. The aromas and flavors of ripe red and black stay lively and persistent through the finish. Mouth: Elegant rusticity. Dark black cherry component with a long palate and firm but pleasantly structured tannins. This single vineyard from the deep-end of the Anderson Valley is medium-bodied with concentrated, silky smooth, opulent earthy fruits and seamlessly fresh with a long, layered finish. 12.7% Alc. 275 cases made. 
---
In search of a discount on wine and shipping? Check out the details about The Storytellers Wine Club & easily join online. Members receive 2 shipments per year. 
The Storytellers Wine Club Members have already received their 2021 Spring Allocations that includes 2019 Lakota's View Semillon and 2018 The Boonies. 
Orders will begin shipping in a few weeks from us, to areas warm enough to safely ship wine. If it is too cold (or hot) in your area, we will hold your package to ship when the weather allows. 
Please check the delivery address on your account as a business address may have been used for past deliveries. All orders returned to sender will be charged additional shipping fees to send again. 
Signature by someone over the age of 21 is required.