October 13, 2020  
Good morning from a windy and warm Healdsburg. Much of Northern California is under another Red Flag Warning until Friday with high temps and gusty winds forecasted. Please continue to pray for the safety of our communities.  
So here we are. 
October 13, the seventh month mark of the pandemic. We are still OK, but what a weird & serious year it's been. We've taken comfort in sharing this same sentiment with many of you too. Are we even allowed to celebrate successes and have any fun? YES! We've had record numbers of guests the past two weekends in the Anderson Valley, new placements are happening all over our wholesale states (especially in Massachusetts and Texas) and The Storytellers Wine Club is experiencing growth like we've never seen before! THANK YOU!  
On Monday night I received a "Google Alert" that was timely.  
Must Haves: A French Connection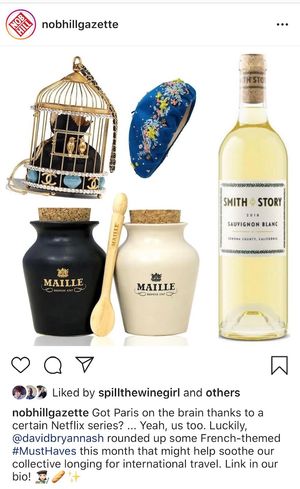 "Spin the Bottle. Blended as a love letter to Sancerre from the Loire Valley, Smith Story Wine Cellars' 2018 Sauvignon Blanc ($25) delivers bright fresh and citrusy character with a delightfully long finish. 
This Sonoma County wine has become one of most sought-after sauvignon blancs in the region — and in August, Smith Story's Anderson Valley tasting room was name one of the 10 best tasting rooms in America by USA Today." David Nash, Nob Hill Gazette. 
Thank you for telling us! "We've depleted our Smith Story wines 2x over". Trust us, we know how you feel, we are so grateful you love our wines too. The quality and JOY our wines bring continues to help our daily lives and enhance those of many. It's a job/career/livelihood that is never taken for granted. Enhancing lives, we aim to please!  
---
Housekeeping 
*2019 Sauvignon Blanc and 2018 Helluva Vineyard Pinot Noir: 2020 (extended) Fall Wine Release ends at midnight on October 16. 
*Also, we are squeaking-out online orders and wine club shipments as the weather from NorCal to your area allows. Thank you for your patience.  
*Low inventory: 2018 Rosé of Pinot Noir, 2017 Cabernet Franc, & 2016 Cabernet Sauvignon 
*New October Anderson Valley Tasting Room hours include Sunday 12-4pm.   
*State of Virginia friends, please hang in there! Our red-tape in your state was hung up on middle names they wanted to see on our drivers license...I can not make this up!  
Signing off from the beauty shop chair this very minute, my favorite chair of all time I must confess!  
Peace, love and VOTE!  
Ali