Sunday, December 6, 2020 
"Everything's better with wine", said Ina Garten, Barefoot Contessa on today's show. Yes Ina, wine has been the steady "good news" in our lives this year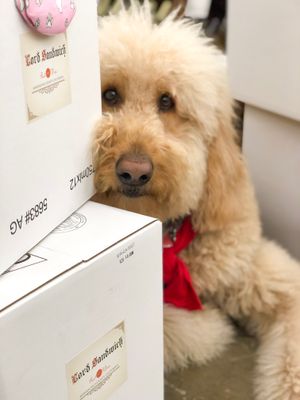 indeed!  As of 4pm today, we are still allowed to be open and host wine tastings outside here in the Anderson Valley (Mendocino County). This could change at anytime, so please check with us first before visiting. 
The weather here in the Anderson Valley has been perfect, a little chilly in the shade but we have you covered with Pendleton wool throws and a new patio heater too. I don't think we have it in us to offer Bay-Area Porch Deliveries again this year, we are hoping to have all orders in (this includes all your sweet gift orders too!) and shipped out by the 15th.  
Our indie restaurant & retail footprint in wine shops continues to grow in Massachusetts, Rhode Island, Delaware, Maryland, Virginia, Washington DC, Oklahoma, Texas, Colorado and California... please continue asking for us and Sharing the Smith Story!  We are hoping that our restaurant partners especially make it through this dark time, please support to-go orders whenever you can, it means the absolute world to each of these independent restaurants.  
Thank you so very much for cheering us on this last month of the most insane year of our lives!  
Continued Peace & Love, Ali, Eric & Lord Sandwich.  
---
Remember, this special offering ends on Friday.  
The deal: $200 a full case of our 2018 Smith Story Sauvignon Blanc, Sonoma County. This best-selling and beautiful case of wine is normally $300. So Right On!  
No, we have not lost our minds! We have however lost a major sales channel this year across the country due to the pandemic, so we're extending basically restaurant pricing to you as we move into the new year and next vintage. Going on 7 years now, our #1 selling wine in restaurants has been our mouth-watering Smith Story Sauvignon Blanc.  
It's now the "End of Vintage on the 2018", so take advantage, stock the cellar, tell your friends, neighbors, coworkers, family about this deal (or to Venmo you for a few bottles) of Smith Story Sunshine. This offer will ship right away for gifting too. 
2018 SMITH STORY SAUVIGNON BLANC, $200 A CASE. 
Use Promo Code: "Sunshine"  
You may pick up your wine order here in Philo or select ground shipping since the weather is cooperating these days.  
Offer Ends December 10, 2020.  
PS: don't need a full case? Join our Storyteller Wine Club today, place an order and reap the rewards of year long great savings too.