May 16, 2021 
Celebrating the Future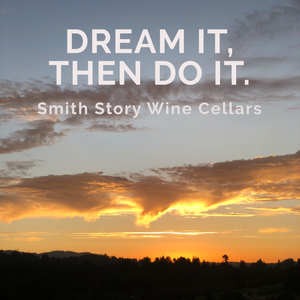 Last Friday, May 14, 2021 was our wedding and winery 8th anniversary. The day was spent hosting guests from across the nation and friends here in the Anderson Valley. A day full of love and delicious Smith Story Wines. 
It's an emotional time for us most certainly. These past bootstrapping, wildfire intensive, pandemic, start-up years have frankly been more challenging than two humans should handle. But we did and we continue to work with optimism that is loaded with practicality. So keep looking forward to what's coming up from Smith Story Wines. 
We look forward to seeing new Smith Story placements in the market this summer and of course, come see us soon in the magical Anderson Valley. Thank you for your continued love and support. Keep Sharing the Smith Story! 
"The ones who are the most human will win…" 
Peace and Love, 
Ali & Eric 
---
Celebrate with Smith Story Sparkling 
And we repeat: This new sparkling wine is so luxurious.Truth be told, this is going to be the happiest bottle of Smith Story wine you've ever opened. That is a big statement! Eric and I absolutely love this first sparkling release made from vineyards near us in Mendocino County. 
Please don't hesitate, orders will begin shipping late May/early June and of course you may select to pick up here at the tasting room. Summer shipping fees will start mid-June and unfortunately all shipping costs have increased. We encourage you to load up now on your Smith Story "summer sippers", besides our white wines, we really do enjoy the Helluva Vineyard Pinot Noir and Sonoma County Cabernet Franc served slightly chilled. Visit the Wine Shop. 
The word is out…our Smith Story Sparkling Brut is available for purchase on www.smithstorywinecellars.com. Priced at $46.99 a bottle. $34 for members of The Storytellers Wine Club through May 31 (members please login first). 
**** Signature by someone over the age of 21 is required.****