Saturday, January 2, 2021
After nearly 12 hours of sleep last night I sipped my first cup of delicious coffee and picked up my phone to see a "Google Alert".  My heart rate jumped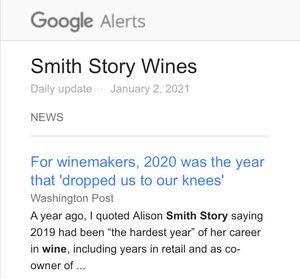 as I clicked on The Washington Post link, tears quickly filled my eyes when I read the title "For winemakers, 2020 was the year that 'dropped us to our knees'".  
Eric asked me what is wrong when I walked into the living room to find him. "Happy crying babe, it just means the world when others share Our Story, we have been so damn diligent", then I began to read the article aloud on this chilly overcast morning.  "He got it right, Dave captured our 2020 winery life with energy and accuracy", said Eric.
For those who aren't in the know... 2018 and 2019 especially became very hard years for smaller (and new) wineries like Smith Story to obtain success in the wholesale channel.  There has been a "wine glut"... inventory levels reached an all-time high in American...bigger wine companies plunking out marketing-driven wine labels combined with robust wine imports and don't even get me started with White Claw data. 
If you follow us here or on IG you know 2020 has been tougher than not. We are only human trying our best to reach the shores of entrepreneurship and survive the pandemic with our heads held high. Smith Story may be small, but we are mighty! 
The media has been kind to Smith Story Wine Cellars. Wouldn't ever happen if the wines couldn't back up the wild journey we're on. Thanks for riding along with us! Grab a bottle, pour a glass and read up on the last 12 months of coverage if you like! If you are a subscriber to The Washington Post, please leave a comment at the end of the article too. 
Eric and I are celebrating tonight by opening a bottle of our 2014 Helluva Vineyard Pinot Noir, Anderson Valley. Look for our  "Raid the Cellar" Library Wine Offering coming mid-January (after we hibernate for a few weeks). 
Cheers to brighter and lighter 2021! 
Ali Story