Sunday, April 18, 2021 
What's new at Smith Story? 
The last few Spring Wine release orders are shipping out tomorrow! THANK YOU! Happy Dance...Both Eric and I (now both vaccinated!) but are also feeling somewhat emotional this morning. 
This year, a year so far full of hope and hustle putting the challenging pieces of 2020 behind us. May 14, 2021 marks our 8th Wedding Anniversary, also the 8th Anniversary for Smith Story Wine Cellars. Normally the May calendar is packed with celebratory events, but not this year. The month of May and into the summer we will continue to offer limited patio seating which can be reserved for wine flights or to simply safely enjoy a few glasses of Smith Story on the patio. Complimentary reservations for our Storytellers Wine Club members of course! 
Fun news…our very first Smith Story Sparkling Wine release is near. This divine new bottling has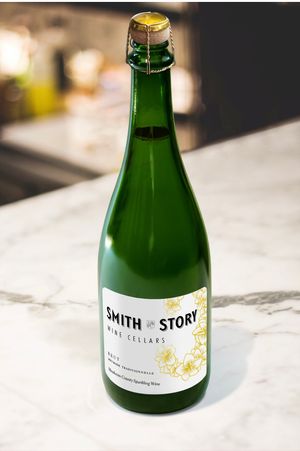 been a not-very-well kept secret (we are so excited!). A small 400 case blend of beautiful pinot noir and chardonnay "brut", farmed from sustainable and organic vineyards in Mendocino County. Eric and I are so very proud. More details coming soon on the official release date. A brief post on The Chapters is now up about it our first Smith Story sparkling wine. 
Now for the hard part… not sure how else to tell so many of you, we've been an open book from 2013 about all the good news, delicious new wines and also challenges about our start-up life, fires, floods, draughts and the effects of the pandemic on Smith Story Wine Cellars. 
Very recently I was diagnosed with Stage 2 breast cancer. That's the bad news! The good news… well, test results confirm that the cancer hasn't spread and I without a doubt am confident that my battle plan (which has already begun) will succeed in destroying this disease. The past few weeks have been filled with balancing work while understanding what lies ahead with my diagnoses for both of us. Very little will change on the winery front. In-person hours of operation will be shortened for a bit and wine shipping will be outsourced to a fulfillment house (overdue for this anyway!). 
We ask… to please send us some extra love and strength, prayers of healing and support for the surgical team too. My Santa Rosa Kaiser oncology team is well-vetted and believe that I am in good hands. My surgery is this upcoming Wednesday to remove the cancer and then I'll begin my recovery. Not what Eric and I imagined dealing with now or ever, but appreciate what these last 7 years have built… a winery built with love, sustainability, integrity, passion, people and has truly become 'The All American Story". Thank you for playing a important role in of Our Story too. 
With so much love, 
Ali 
PS: "What can I Do? How can I help?" Please tell your friends, favorite wine establishments and family about Smith Story Wine Cellars. We aren't in need of any material anything nor have any room. There is no USPS delivery here in the Philo tasting room. We pick-up mail about 1x a week at our business address in Santa Rosa.