Blue Sky...Sorta.  
Well, how are you doing today? Take a seat, this is a long one friends. Last week was the hardest of 2020 yet! The two of us have been worse but have also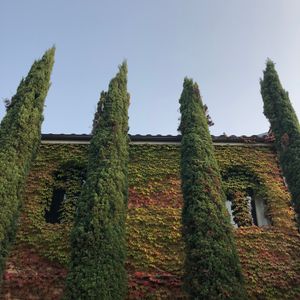 been so much better. This photo was taken last night at the tasting room, it was extremely smokey going into the dark of night here in the Anderson Valley however. Eric and I are giving it our best to remain focused on the good news. 
Quite honestly, the last two weeks between the 100+ degree days hosting wine tastings outside, a jam-packed Labor Day weekend, finalizing taxes then dealing with the possible apocalypse last week (smoke and fires) good Lord we're beat tired. The emotional strain of the pandemic, politics, wild-fires, Harvest 2020 and uncertainty of "what's next?" has taken so much of our energy, but not everything.  
'No Guts, No Story" … the fire in our bellies to succeed as a world-class winery hasn't let up. Your support and the support from the business accounts featuring Smith Story Wine Cellars this year in particularly keeps us keeping on. You may have guessed by now, we are not picking any grapes this year.  
Don't freak-out, we're not. You see, we've been building our inventory and growing our portfolio these last 6 years to meet the needs of a vast 3-tier wholesale network. BOOM. I won't get into all the details, but the last few years so did every single winery on the planet! Our forecast to open 10+ new markets came to a very loud halt in March. So the silver lining is… we have wine in bottle for you, we have wine in the cellar too. The vineyards of our dear current family of growers have suffered from smoke taint from the NorCal fires. The smoke and fires are never welcomed of course, but man, they happened at the most sensitive time of the growing season. There is no reason for us to risk making smokey-wines, our energy has to be spent on the quality of our wines first and foremost. 2021 will bring back the wines you love, new vineyards that are organically farmed and hoping we'll bring back our Eric Story Selections German wines too if and when the tariffs go-away.  
What's next? The hustle never ends.  The next few weeks will be spent turning our tasting room into a shipping-depot again and hosting guests outside. How can you help us? Buy our wines, join The Storytellers, tell others about your experience with us in person and in bottle, demand Smith Story Wines be poured in your favorite local spots too. We have invested in people and channels that matter to us greatly in Massachusetts, Virginia, Delaware, Washington DC, Maryland, Oklahoma, Texas and Colorado. I handle wholesale business in California currently. No, I really don't sleep much. My downtime drifts often to thinking of what our 'forever home and wine country property" will look like one day.  Oh I can't wait for things to return to normal and one day host incredible gatherings under the stars up with you up here. Until then, Eric and I both continue to put the hard work in together.  
I've received so much feedback from you about how much you enjoy our emails and posts on The Chapters here... make sure your family and friends are forwarded a copy. Like I say a few hundred times a month "I write the emails that are hopefully fun, interesting and informative". Please also take a few minutes to read all the new press features when you can, the media has been so kind to us...we're determined to make sure Smith Story Wine Cellars continues to grow and becomes top-of-mind when reaching for a great bottle of wine for wine lovers across the world. We are competing with giants among our industry and turning heads and hearts along the way!  
OK - thanks for listening today. Our 2020 Fall Wine Release ends on mid-night this Friday.  It's one that you will be so thrilled by, the two wines we've chosen for this shipment are 2 of our most devoured each year. These new vintages will allow you to fall in love all over again, we promise. Keep in mind...  
We will begin shipping as weather allows - please expect delays for warm areas.  If you have a unique shipping circumstance, please reach out.  Wine is as perishable as a stick of butter in transit.  
Please check the delivery address on your account as a business address may have been used for past deliveries 
Signature by someone over the age of 21 is required not our law, but the US Government and lobbyists created this headache. 
Pickup of Your Order or Local Bay Area Delivery:  
Orders will be available here in the Anderson Valley by appointment,  you may select how you want your wines shipped or held upon online checkout. We'll be making at least 5 Local Porch Deliveries soon too. Looking forward to a night or two at Cavallo Point along the way and sipping Smith Story wines in our robes in bed. Yeah, that sounds dreamy cool. Cavallo is where we had dinner the night of our engagement in 2012 and where we have enjoyed hiking, spa-time, lunch and dinners with friends and family, wine on their epic porch and many a negroni while listening to live music in the Farley Bar. The shopping at the Cavallo Mercantile is our favorite too, full of local designers and high-quality items for gifts and the occasional shopping spree.  
Don't forget that we're open by appointment for private, outdoor tastings in our new Smith Story Weingarten. Smoke be damned! The Anderson Valley makes for a great road trip anytime of year.  
Thank you for your support, we're counting on the good news to continue for our family winery!  
Peace and love, oh and one more cup of coffee today please!  
Ali (Eric and Lord Sandwich) 
Smith Story Wine Cellars 
"The All American Wine Story"